Benefits
The spectrum of potential applications in the 1,700 to 40,000 MBTU/h range stretches from hot-water and steam boilers to air heaters and thermal-process plant. With its broad palette of industrial burners, which can be operated on almost any gaseous or liquid fuel, Weishaupt has the right burner for virtually every application.
Digital combustion management, which is included in this range of burners as standard, provides for the economical regulation of gas and oil and simplifies the operation and maintenance of the burner. It also offers the possibility of communication with various monitoring and control systems, up to and including integration into complete building management systems.
The combination of select materials, decades of experience in the state-of-the-art Weishaupt Research and Development Institute, and the latest manufacturing practices sees Weishaupt burners recognised as top-quality products the world over.
Reliability
The clear layout of the burner with its easily visible and accessible components ensures comprehensive and reliable service - no ifs or buts.
Service and support is available to customers 24/7 through Weishaupt's comprehensive network. This ensures that systems with a Weishaupt burner always perform reliably.
Technology
Weishaupt's patented multiflam® technology enables large combustion plant to meet very low emission limits.
Key to the system is a special Mixing assembly
that establishes an internal flue gas recirculation. This cools the flame and reduces the formation of nitrogen oxides. The NOx levels that can be achieved are comparable to those of compact burners.
The various Weishaupt burners that are available in multiflam® execution cover a range of capacities extending from 340 MBTU/h to 78,500 MBTU/h.
50–70-series burners
| Typ | Rating (MBTU/h) | |
| --- | --- | --- |
| RGL50/1 | 1,706 - 11,601 | |
| RGL50/2 | 2,047 - 16,719 | |
| RGL70/1 | 2,730 - 24,909 | |
| RGL70/2 | 3,412 - 34,121 | |
| Typ | Rating (MBTU/h) | |
| --- | --- | --- |
| RGMS70/1 | 2,730 - 25,250 | |
| RGMS70/3 | 3,412 - 36,510 | |
| RGMS70/4 | 3,412 - 39,922 | |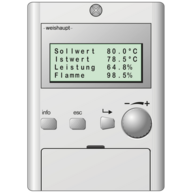 Control and display unit with clear-text display
4 language packs, each with 6 languages
Integrated memory for data backup
Opener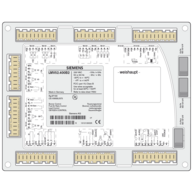 W-FM100/200 digital combustion manager
With integrated connection terminals and bus interface
Opener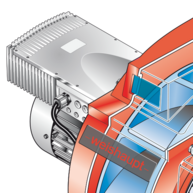 Frequency convertor for VSD
Speed control software included in the combustion manager as standard
Improves electrical efficiency and reduces power costs
Opener